Darren Patz, Esq.
Senior Vice President, Chief Government Affairs Officer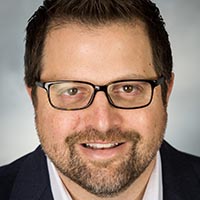 Darren Patz joined the company in 2004 as Associate General Counsel and has served in various senior roles within the Government Affairs Department, with his most recent appointment to Senior Vice President and Chief Government Affairs Officer in 2018. In this role, Mr. Patz leads the advocacy and lobbying efforts for Mednax on state and federal issues, collaborating with members of U.S. Congress, State legislators and health care administration officials on issues affecting the company's medical practices. Additionally, he manages a team of external lobbyists and policy experts who assist in achieving the organization's advocacy goals.
Previously, Mr. Patz was a health care attorney with the national law firm, McDermott Will & Emery, where he managed health care transactions, health care policy and regulatory work.
Mr. Patz holds a juris doctor degree from the University of Miami School of Law in Coral Gables, Florida, where he served as an editor of the University of Miami Law Review journal, and a bachelor's degree in Communications from The Pennsylvania State University.