Charles W. Lynch, CFA
Senior Vice President, Finance and Strategy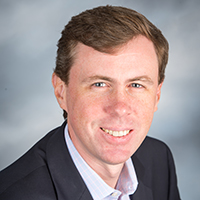 Charles Lynch is a health care executive with more than 25 years of experience in the industry. He joined Mednax® National Medical Group in 2014 and currently serves as senior vice president of finance and strategy and the company's investor relations officer.
Prior to joining Mednax, Mr. Lynch spent his career across a multitude of roles in the finance sector, all focused on health care. Most recently, he was a managing director at Westwicke Partners, a dedicated health care consulting firm, where he advised public and private companies on all aspects of their interactions with capital markets. Mr. Lynch also was a senior investment banker with Oppenheimer & Company and CIBC World Markets. Before that, he was a highly ranked equity research analyst at CIBC, Schroders and BT Alex. Brown.
Mr. Lynch holds a Bachelor of Arts degree in economics from the University of Pennsylvania and is a Chartered Financial Analyst.
Mr. Lynch and his wife, Kristen, live in South Florida, and their son will soon be attending college.