Roger M. Hinson, M.D.
President, Pediatrix and Obstetrix Medical Groups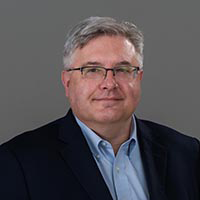 Mack Hinson, M.D., joined Pediatrix in 2003 and currently serves as President of Pediatrix and Obstetrix Medical Groups. Dr. Hinson previously served as the Chief Operating Officer for Pediatrix Medical Group, President, Regional Vice President and Director of Operations for the Mountain West Region, and Corporate Medical Director of Seattle Area Neonatology for Pediatrix Medical Group of Washington.
Dr. Hinson received his medical degree from the George Washington University School of Medicine and Health Sciences (Washington, DC). He completed his pediatric residency at Madigan Army Medical Center (Joint Base Lewis-McChord, Washington). Dr. Hinson completed his neonatal-perinatal medicine fellowship at Walter Reed Army Medical Center (Washington, DC) and his fellowship postdoctoral research at the National Cancer Institute and the Food and Drug Administration. He is a fellow of the American Academy of Pediatrics.
Dr. Hinson holds a master's degree in management with a focus in leadership from Nova Southeastern University (Fort Lauderdale, Florida). He has held academic appointments at the Uniformed Services University, Tulane University and the University of Washington.
Dr. Hinson is active in a variety of civic activities, including serving as a past Chair of the Greater Puget Sound March of Dimes Executive Leadership Council and as a member and President of the Board of Trustees of Eastside Preparatory School (Kirkland, Washington).