MEDNAX Radiology Solutions is the nation's largest radiology practice, proud to be recognized as a leader in radiology, an innovator in health care informatics and a pioneer in telemedicine.
We serve 2,100+ facilities nationwide, reading 11M+ studies annually through our more than 750 subspecialty trained radiologists.
By delivering seamless on-the-ground and in-the-cloud radiology solutions, MEDNAX Radiology Solutions offers unique and tailored solutions to drive growth and value.
Discover what radiology leaders can do to ensure their practices thrive in today's increasingly complex and competitive marketplace.
Download the on-demand webinar and guide.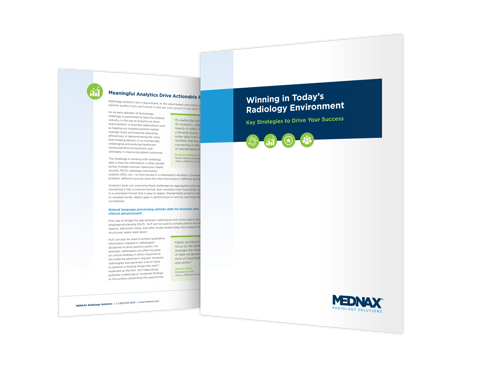 A number of the nation's premier Radiology groups are part of MEDNAX Radiology Solutions and serve hospitals and health care facilities across the nation. Our board certified and subspecialty-trained physicians offer high quality medical imaging and radiology services, including:
Body Imaging
Breast Imaging
Cardiac Imaging
Chest Imaging
Diagnostic Imaging
Emergency Radiology
Hospitalists
Interventional Radiology
Non-Invasive Cardiovascular Imaging
Molecular Imaging
Musculoskeletal Imaging
Neuro-Interventional Radiology
Neuroradiology
Nuclear Medicine
Pediatric Radiology
Thoracic Imaging
Vascular Radiology
Women's Imaging
vRad, a MEDNAX Company, delivers our teleradiology services and has been a leader in the telemedicine space since 2001. We offer:
Daytime or overnight subspecialty trained coverage with 24/7 radiologist availability
Industry-leading turnaround times with specialized workflows for stroke and trauma studies
State-of-the-art secure reading technology and analytics platform
Final emergent and non-emergent interpretations read 24/7 by our fellowship-trained radiologists
Teleradiology
Our board certified subspecialty trained physicians are available 24/7 and read within the following specialties:
Abdominal Imaging
Breast Imaging
Cardiac Imaging
Muscloskeletal Imaging
Neuro-Interventional Radiology
Neuroradiology
Nuclear Medicine
Pediatric Radiology
Thoracic Imaging
Vascular interventional Radiology
Partnering with MEDNAX Radiology Solutions
There's a reason more than 300 private practices have chosen to become part of MEDNAX. We allow practices to maintain their unique characteristics while providing clinical and administrative support. Some of the reasons why practices choose to join MEDNAX are:
Ability to maintain clinical autonomy
Improved operations and financial performance
Collaboration across practices and specialties
Unique culture of quality improvement and safety initiatives
Access to robust clinical systems and data collection tools
Security in strength and numbers when facing uncertain industry changes
MEDNAX delivers intuitive, customized solutions to meet your facility's needs.