About Us
We're excited to now offer mobile check-in! Please look for an email/text message a few days before your appointment from Phreesia, our new check-in system. You can confirm your appointment via text message or email, and check in online prior to your visit. You can also check in on your own device when you arrive.
Ask us about getting started!
Children's Eye Care Optical Shop Temporarily Closed: Office Remains Otherwise Open
To all our valued patients and families: we have lost many staff over the past 6 months due to the pandemic. You will see lots of new, happy (masked) faces on your visit to our office! Unfortunately, we have not been able to replace our opticians, so our optical is not taking new glasses or contact lens orders until we are able to hire a new optician or two. If you have already placed an order with us, rest assured that we will be following through to deliver your child's new glasses or contacts as soon as they arrive.
Although optical is closed, the office itself remains open for routine, medical, and surgical eye care. Please call us at 425-823-3937 if you have any questions!
________________________________________________________________________
Children's Eye Care was founded in 2008 with the idea that typical doctor's offices can be frightening to children and that we could build a friendlier environment.
​
Our play area is unique for a doctor's office. It offers children a place to play while their eyes are dilating, or a distraction while you are picking out glasses for your child in our optical shop.
​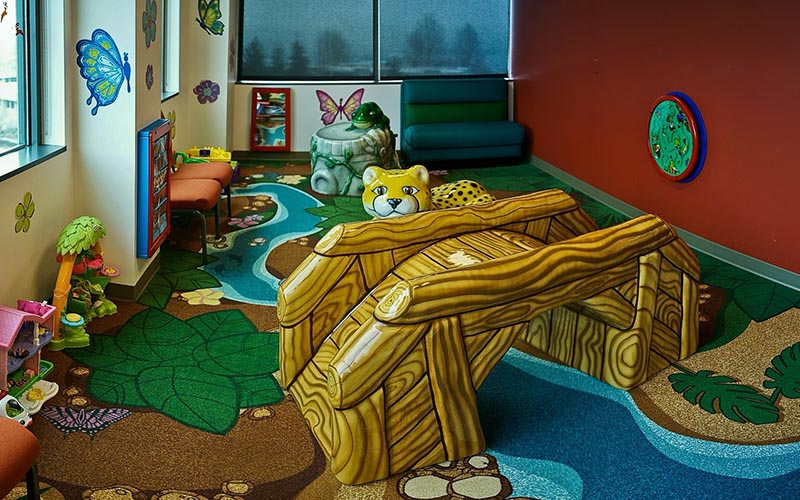 Our movie room plays an assortment of family friendly movies if you're looking for a quieter place to wait.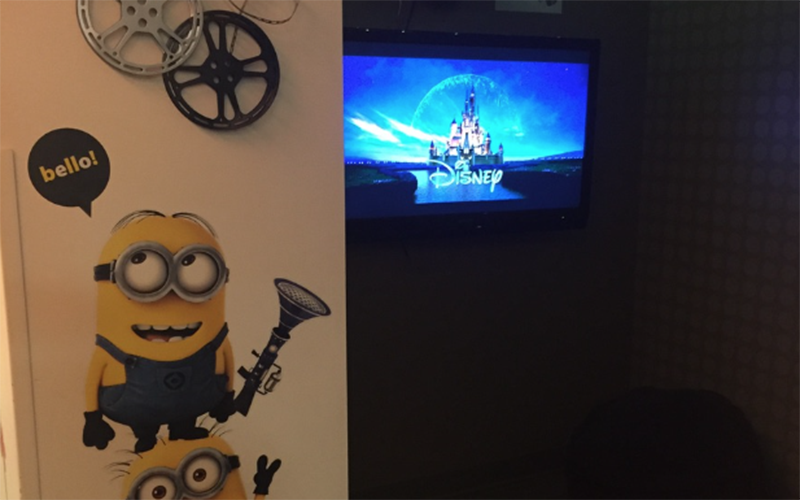 ​
Our front room features a wave wall and seasonal decorations for older children or adults.
​

A sterile exam room can be anxiety-producing for anyone. That's why our rooms are themed, each with a different wall mural. The rooms are large with plenty of room for families, siblings, or strollers.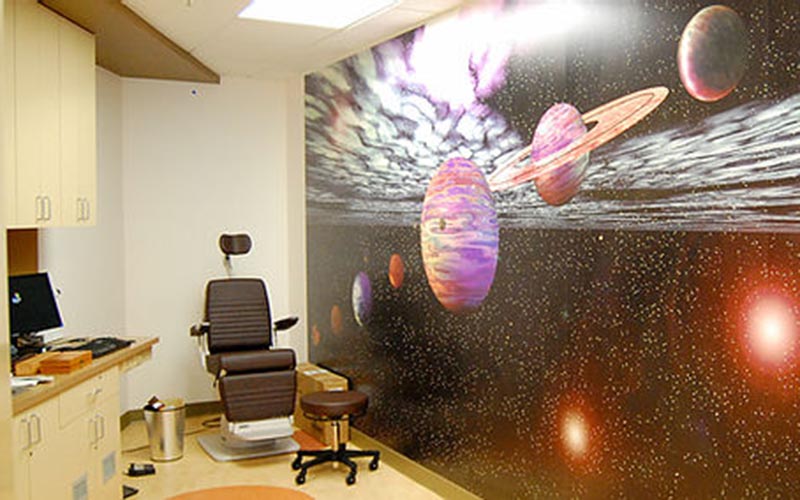 HOURS OF OPERATION
Office Hours
Monday – Thursday: 8 a.m. – 5 p.m. (Lunch from 12 p.m. – 1 p.m.)
Friday: 8 a.m. – 1 p.m.
Optical Hours
We are not currently accepting new appointments. Please contact our office for more information. Phone: 425-823-3937
Do you take my insurance?
We take most medical insurances and many vision plans. Check our insurance page or call us for details.
What if I can't make my appointment?
We ask that you call to cancel your appointment at least 48 hours ahead of time. There is a $75 no show or late cancellation fee.
What do I need to bring to my appointment?
Be sure to bring your insurance card and read our New Patient Information form here.
It takes so long to get in to see you. What if my child has an emergency?
We have emergency slots for children with urgent or emergent eye conditions. Call us and our patient care coordinators will help work you in at an appropriate time.
The fastest way to contact us and to make an appointment is by phone!When requesting an appointment, please let us know which days and times work best for you and we'll try to accommodate your schedule the best we can. Leave as much detail as you'd like in your message. Please be aware that our wait times for new patients are quite long unless your child has a condition that requires more urgent evaluation.
​Dr. Epley sees patients Monday through Wednesday, and is in the hospital on Thursday and surgery or Cascadia Stanwood on Friday. The Stanwood office can be reached for appointments at 360-416-6735.Dr. Heidar sees patients Monday, Tuesday, and Thursday, and is in the hospital on Wednesday and surgery on Friday.Dr. Mai sees patients on Monday and Wednesday through Friday.
Our patient portal allows you to request and schedule appointments, to access medical information, and to communicate with our staff and doctors.
Click here
to find out more!
We take most medical and vision insurances. Before your visit, please check our insurance list to see if your insurance is accepted. If you are not sure, please call us to verify at 425-823-EYES (3937).Vision insurance is insurance that covers you for routine exams only–the basic eye exam to determine the health of the eyes and the need for glasses. This is typically an annual benefit that can be used once each year. It does not cover you for any medical issues your eyes may have: these are covered under your medical insurance.
Medical insurance covers you for any problems you might have with the health of your eyes: insurance companies do not consider the need for glasses or contacts a medical issue under any circumstances, even if the need for these treats an eye disease or prevents you from going blind. It's frustrating, but there are no situations where your glasses or contact lenses will be covered by medical insurance: if you or your child have need for glasses, it is worth it to explore vision insurance to cover these during your open enrollment period for insurance (usually in November or December of each year).
A refraction is the determination of the need for glasses or contact lenses. It is an integral component of any complete eye exam but is identified as a separate service by your insurance company, both the medical and the vision types of insurance. Vision insurance covers the refraction charge, and some medical insurances may cover this charge, but many do not.
With any of your eye care needs, our staff will work with you to get you the best coverage for your situation. Whether the exam is routine (vision insurance) or medical (medical insurance) is determined by the doctor during your exam: if medical issues are discussed and addressed, the exam will be medical. If there are no medical issues, even if your primary care doctor referred you for evaluation, the exam must be billed routine (these are your insurance company rules, not ours).
Should you find your exam is not covered by your insurance, we offer a substantial cash discount for your exam. Many times, our front office staff can help you sort this out at the time of your appointment. If you receive a bill you don't believe you should have received, please call us at 425-823-EYES (3937) and we will do our best to help you sort out the situation!
​
Learn more about the difference between vision and medical insurance here.
Children's Eye Care is part of the Mednax® family. Your bill will come from Mednax/Pediatrix, we ask that you please call us directly with any billing issue first (425-823-3937). Many issues can be resolved by our staff on site without the need to call the Central Billing Office.It is our pleasure and our privilege to help you and your family with the care of their eyes. We work hard to make your visit a positive experience, and we will continue to do so as a division of Pediatrix and Mednax. We thank you for trusting us with the care of your eyes, or those of your child or children. We take this care seriously and are honored you have chosen us for this care.
We have over 500 frames for children and young adults in our optical from these top manufacturers, plus many more:
Adidas
141
Alan J Made in America
Betsey Johnson
Converse
DB4K
Dutz
Ella & Max
Etina
Guess
Kate Spade
Kensie
L.A.M.B.
Lafont
Lilly Pulizter
Lulu Guiness
Marchon
Mira-flex
Neubau
Nike
OGIth-10
Original Penguin
Plain Les Mirettes
Ray Ban
Rec Specs
Sperry
TC Charton
Ted Baker
TOTony Hawk
Truboflex
Zuma Rock
Let the experts at the American Association for Pediatric Ophthalmology and Strabismus teach you about your child's eye condition: click here.Learn more about myopia here.
Beginning January 1, 2020, Washington state law protects you from 'surprise billing' or 'balance billing' if you receive emergency care or are treated at an in-network hospital or outpatient surgical facility. Please review the following:
If you have any questions about the insurances we do not accept, please call 303-784-9000 extension 215103 and leave a detailed voice message.
Meet Our Clinicians
Our local clinicians are highly trained to meet the individual needs of patients. Learn about their training, certifications, and other credentials by viewing their individual biographies.
View Directory